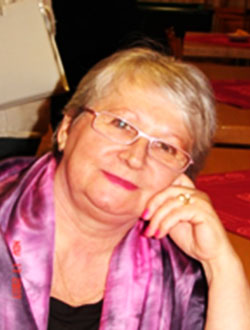 MIROSLAVA RADOJEVIĆ

Miroslava Mira Radojevic je rodjena u Subotincu kod Aleksinca Zavrsila je mediscinsku
skolu u Cupriji. Tokom rada je zavrsila i skolu za anesteticare na VMA u Beogradu.
 Radila je u Cupriji do 1990 godine kada dolazi u Svajcarku i nastavlja sa radom.
2010 godine odlazi u penziju, ali ne prekida sa radom, jer je zaljubljena u svoj poziv.

Tada pocinje sa pisanjem poezije i proze.

Svoje radove je objavila u zborniku Udruzenja srpskih pisaca Svajcarske « Zavestanja 2013 », « Zavestanja 2014 », « Zavestanja 2015 » i « Antologija Zavestanja » i dvojezeicnoj knjizi « Zlatne reci », Takodje je svoju poeziju objavila u zborniku « Aleja breza », « Pesniku
srebrne kose », « Plodiste », « Garavi sokak » i « Pamtenik ». Clan je knjizevnog kluba
« Dusan Matic Cuprija », « Zdravko Djekic » Stutgart i « Sedmica »  Frankfurt na Majni.

Dobitnik je nekoliko priznanja i zahvalnica za doprinos pisanoj reci.
Njena prva knjiga poezije koja je izasla 2015 godine « Nasi dani « dobila je pozitivne kritike
sto joj daje jos veci elan za pisanjem.

**************************

Miroslava ("Mira") Radojevic wurde in Subotinac bei Aleksinac im Südosten Serbiens geboren. Nachdem sie die Grundschule in ihrem Dorf abgeschlossen hat, beschließt sie, die Schule fortzusetzen und eine Ausbildung zur Krankenschwester an einer medizinischen Hochschule zu machen. Die Entscheidung über ihr Berufsleben fiel nach einem Besuch des Nis (Nisch) Clinical Center als Mädchen, begeistert von den Uniformen der Krankenschwestern.
Sie arbeitete dreizehn Jahre lang im Krankenhaus von Ćuprija, dann ging sie an die Militärakademie in Belgrad zur Weiterbildung als Anästhesieschwester. Nach ihrer Ausbildung kehrte sie in ihre Klinik in Cuprija zurück. 1990 ging sie in die Schweiz, wo sie weiter als Anästhesiepflegefachfrau arbeitete.
2010 ging sie offiziell in Rente, doch sie arbeitet weiterhin in ihrem Beruf, in den sie, wie sie sagt, verliebt ist.
Nach ihrer Pensionierung schreibt sie Poesie und Prosa. Sie veröffentlichte ihre Gedichte in der Kollektion des Verbandes serbischer Schriftsteller der Schweiz: "Die Bündnisse von 2013,, "Die Bündnisse von 2014, "Die Bündnisse von 2015, die Anthologie von Die Bündnisse und das zweisprachige Buch "Goldene Worte". Ihre Arbeiten sind auch in den Sammlungen "Aleja Breza" ("Aleja Birch"), "Dichter mit silbernen Haaren", "Plodište", "Garavi sokak" und "Pamtenik" zu lesen. Sie ist Mitglied des Literaturvereins "Dušan Matić" aus Ćuprija, "Zdravko Đekić" aus Stuttgart und "Sedmica" aus Frankfurt am Main.
Für ihre bisherigen Veröffentlichungen hat sie viele Auszeichnungen und Anerkennungen erhalten. Ihr erstes Buch "Unsere Tage" (erhielt sehr positive Kritiken. Das zweite Buch "Traum von der Küste des Glücks"  veröffentlichte sie als gemeinsame Ausgabe mit ihrer Tochter Tanja Radojević. Ihre Sammlung "Wir sehen uns Morgen früh" "Ich träume vom Glück unserer Tage" ist die zweite Ausgabe der Kollektion "Unsere Tage" und "Traum von der Küste des Glücks"

**************************

Miroslava Mira Radojević was born in Subotnica near Aleksinac in south-western Sebia. She finished primary school the village she grew up. After finishing primary school, she attended medical high school.  She decided to be a nurse in her very young age. Once she visited big clinics in Nis and was totally fascinated with the uniforms the nurses wore in those days.
She worked as a nurse in a hospital in Ćuprija for thirteen years. Later on she went to Belgrade to learn more and served her apprenticeship at Military Medical Clinics. She wanted to become an anesthetist. After she finished her school and apprenticeship she went back to the clinics she already worked in. In 1990, she moved to Switzerland where she continued to work as an anesthetist.
She officially retired in 2010. But she still temporarily works as an anesthetist, the vocation she loved above all. As she retired she actively started to write poetry and prose as well. Her books were published and edited by the Association of Serbian Writers in Switzerland: "Legacy 2013", "Legacy 2014", "Legacy 2015", anthology "Legacy" and bilingual book "Golden Words" Goldene Verte.
Po penzionisanju počinje sa pisanjem poezije i proze. 2013" Svoje radove je objavila u zbornicima Udruženja srpskih pisaca Švajcarske: "Zaveštanja 2013", "Zaveštanja 2014", "Zaveštanja 2015", antologiji "Zaveštanja" i dvojezičnoj knjizi "Zlatne reči" Goldene Verte. Her books could be found in the collections like " The Birch Alee", "The poet with silver hair", "Ornaments", "The dark alley", "The clever man". She is a member of the literary clubs "Dušan Matić" in Ćuprija, "Zdravko Đekić" in Stuttgart and "The sevens" in Frankfurt on the Mein.
She received a lot of prizes and acknowledgements as a writer and her contribution to the written words is huge. The first book she published "Our days" was very well accepted and was granted by many positive critics.  The second book published "I dream of the banks of happiness" was published in cooperation with her daughter Tanja Radojević and her book "See you tomorrow ". "I dream of the banks of happiness in our days" is the second added publishing of the collections "Our Days" and "I dream of the banks of happiness".